If you love animals and would like to help in some way then why not contact CAFO?
We are looking for likeminded people who can help with transporting animals to foster carers and trips to the vets and similar tasks.
Foster carers are always needed so if you have a spare room in your home and can accommodate a cat or kitten short term then CAFO would love to meet you for an informal chat to discuss how you can get involved.
Maybe you could help rescued animals by organising a fundraiser of your own or such things as a sponsored walk or Funday at your venue or workplace?
We also welcome people who can help us with ideas and work in the background too.
If this is you then CAFO would love to hear from you today!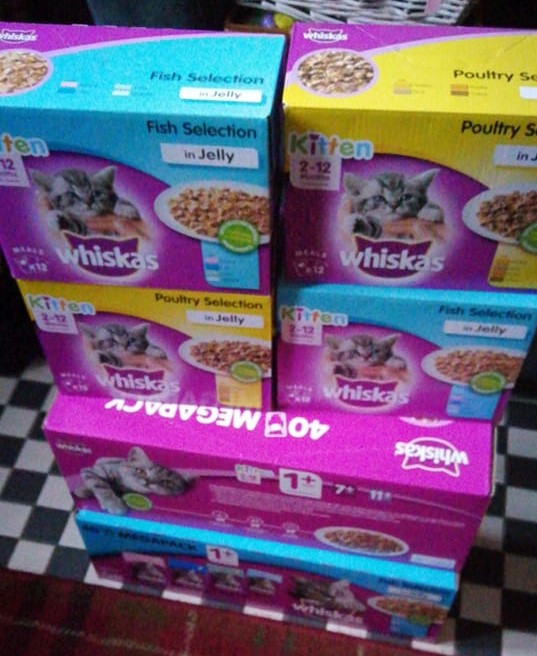 Donations
We are always very grateful for donations of Cat supplies such as food, litter, toys, beds and blankets for our kitties that are in foster homes.
The cost of feeding so many hungry mouths is quite substantial so anything you can help us with will be welcomed by our furry friends.
Items that we can sell on our fundraising stalls or our selling page on Facebook are much appreciated.
The veterinary surgery that we use for our injured and rescued pets is Nantwich Pet Vets on 01270 610322 in Nantwich or their Crewe surgery on Macon Way 01270 211022.
You can donate directly to our vet bills by ringing them directly and quoting CAFO.
These are some of the biggest ways of raising money to pay our vet bills so we can keep our rescue going and keep taking in Cats in urgent need of medical care and provide a loving warm home where they feel safe.
Our supporters mean so much to us and we would like to thank each and everyone of you that has helped us in some way either by donating cakes, items for our selling page and events, monetary donations, attending our fundraising stalls, background and admin tasks, fostering, transporting animals and many many other things that keep our rescue running smoothly.
Thank you for helping us to keep our doors open and we are so grateful for every penny received.
Every hour that you donate of your time means so much to us and the Kitties.
Thank you from the CAFO team!