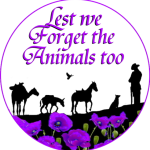 The purple poppy is a symbol of remembrance in the United Kingdom for animals that served during wartime.
The symbol was created in 2006 based on the principle of the traditional red remembrance poppy for Remembrance Day

In the lead-up to Remembrance Sunday, many of us will wear poppies as a sign of respect for the military personnel who have died in war.
While red is the traditional colour, you may notice that purple poppies are starting to appear.
Purple poppies commemorate the animals that were injured and lost their lives in conflict.

According to the Animals in War Memorial Fund, eight million horses died in the First World War.
They were used to transport ammunition and supplies to the front line, but they weren't the only animals involved during this period.
Dogs were relied upon for duties including detecting mines and digging out bomb victims, while 100,000 pigeons were used to carry messages.

We are asking if all our supporters can join in with us and remember the animals we have lost alongside all those that have served in the armed forces on this years remembrance Sunday.