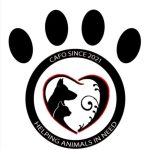 CAFO are so proud to have attended the Rosemary Douglas mind, body & spirit event at Nantwich Civic hall on October 29th & 30th.
We had an amazing weekend selling items such as Books, Framed pictures, painted stones, Jewellrey, handbags and other amazing items.

Some Halloween and Christmas products that were also for sale were very popular with the people and supporters that dropped in to have a browse.

Across both of the days we have raised an outstanding total of £738.95
We cannot put into words how pleased we are at this mammoth amount and are astounded at the support we have received.
Thanks goes out to all visitors that purchased items from our stall, the money raised will be going to help us to continue to keep our rescue doors open for more animals that need our assistance.
Our supporters who ran the stall for us over the two day event have done us proud, we can't thank you enough for the time you have given in order for us to attend on both of the days.
We appreciate the lovely Rosemary Douglas and her generosity for allowing us to hold our stall at her event, our foster Cats also send out their apurrreciation.
If you wish to help us out in any way at all then your help will be very valuable to us as a rescue.
There is always help needed to foster, transport, build, craft items and lots of other tasks that we do in the background at CAFO.
For more details please click on the contact us tab at the top of the page.
We hope to see you all on November 13th at the Coppenhall Club for our Christmas Fayre!