CAFO Complete Another New Catio For Foster Cats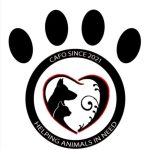 Back in July, we had a super donation of a wonderful Catio, offered to us by local supporter Rachel Elvy.
Rachel had this Catio built for her own Cats but was no longer used, she asked us if we wanted to use it to house more Cats and Kittens that need short term housing.
We were absolutely thrilled with the offer and thought that this would be a great idea, we appealed for helpers to take down and transport the Catio from her property.
Our team of volunteers took it down ready for transporting the sections to the new location.
Jo from Betley Cat rescue picked up the sections for us in her van where she delivered them for us to their new base.
Thanks very much to Jo for her kindness.
The Catio was initially too big to fit where we needed it to go, another friend of our rescue Jason kindly measured the area for us and adapted the Catio panels to fit in a smaller area where it would fit snugly.
Eventually he completed the Catio for us, we are thrilled that we have another safe space for our foster Cats thanks to our supporters generosity.
Monetary donations that were gifted to us were put to good use to fund brand new roof panels, nails, screws and various other equipment needed to finish the job off.
The left over panels and bits from the original Catio are now in storage for use in the future to help other planned projects.
We welcome anybody who has skills to help us with things that we do whether it be building things such as this, hosting fundraisers, helping us with food or donations.
Every penny and donation we receive is used in some way to help our rescue grow.
Without our supporters projects like this would not take place and we thank everyone who was involved with making this Catio idea to become a reality.
A huge thanks goes out to our Cat foster carer for agreeing to have this Catio erected at her property.