TYLER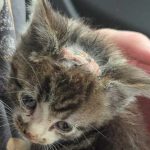 Do you remember Tyler who we think was stuck in a car exhaust and burnt his little head and all his hair was gone?.
Four weeks later with Catherine our hairdresser fosterer and look at this…
Wet Nurse Agatha has been looking after him and topped herself up with milk again!
We really would love to give her a rest and a lovely home now though.