Could you offer a forever home to one of these cats or kittens in our care?
Please check back regularly to see our updated list of beautiful cats that are currently avaliable for adoption.
If you wish to apply for one of the cats in this list please send us a message using the contact us button at the bottom of this page, make sure you put adoption in the subject field followed by the name of the cat you wish to apply for.
All adoption requests will require that we do a home check as part of our process and adoption fees will apply.

Images can be clicked on to open in a separate page

---
Queenie
Beautiful female Queenie was picked up by CAFO after being dumped in a bush of nettles in Crewe, down a dirt path, near to the Moreton road entrance of Queens Park.
She was very very traumatised and frightened and was promptly taken to Eden vets and checked for a microchip when unfortunately no chip was found.
She was extremely thin and was suffering from shock, Queenie is estimated to be 6 – 9 months of age.
Sadly we had no space for her in our rescue so Jo from Betley Cat rescue kindly took her into her rescue, she provided her with a safe space and shelter where she could decompress from her fear and receive medical treatment.

Queenie has now settled a little better and Jo has monitored her very well and Queenie is doing much better.
She is very sweet but needs patience and space to develop her confidence and become the cat that we know she can be.
If you feel that you can offer this gorgeous girl a safe and loving forever home please send your contact details to betleycatrescue@gmail.com for an application form or call Jo at the rescue on 07977 238 668

Thank you so much to Jo for her help and the care that she continues to provide to Queenie.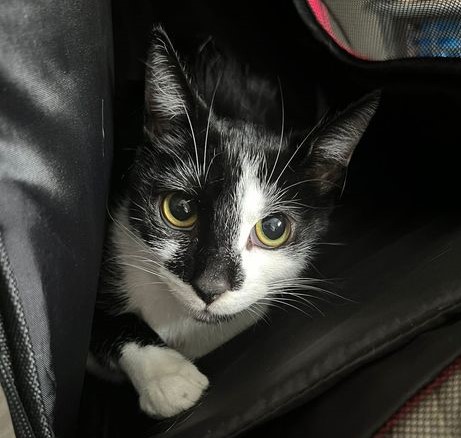 ---
Mabel
Mabel is a gorgeous girl who loves to have a fuss and will follow you around.
Playing is also something that makes her happy, she thrives on attention.
She is be ideal for someone who is retired and is looking for a best friend.
Mabel will be Spayed and microchipped before she leaves our care, she is currently undergoing medical treatment at her foster placement.
If you think this lovely puss could be the companion you are looking for please contact us on the button at the bottom of the page.
---
Leia
Lovely Leia is now ready to find her forever home. She is approximately around 12 -18 months old.
She is litter trained, microchipped and spayed.
Leia would do better as an only Cat as she has not taken to other Cats that are with her in foster.
A very playful cat who loves to cuddle and will soon become your best friend.
Adoption fees and a home check will be required.
Contact us on the button at the bottom of the page if you are interested in this glamorous puss!
Please note – The little kitten on the photo is NOT avaliable for adoption.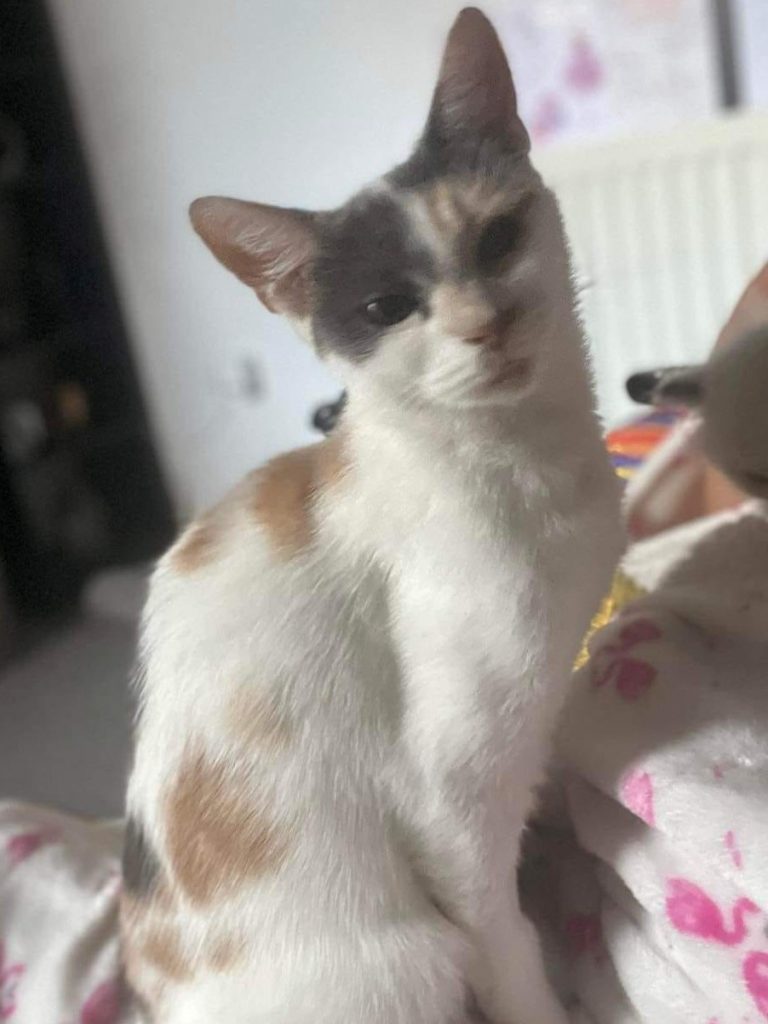 ---
Ruby Moon (Reserved)
Ruby Moon was taken into our care, she was already heavily pregnant.
She has now given birth to a lovely litter of kittens and she will be ready for adoption in a few months once her litter has been weaned and Ruby has been spayed.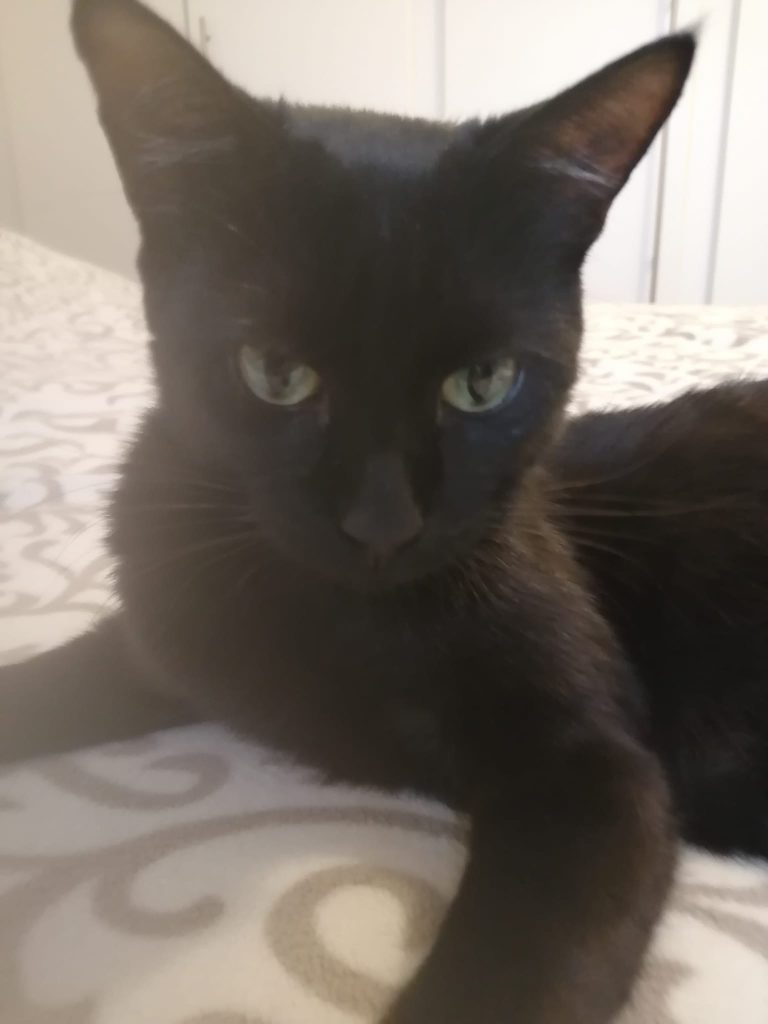 ---
Cat Cat (Avaliable Soon)
This poor boy was injured in July and turned up at a ladies house who had been feeding him.
Cat Cat had gone off his back legs and was in pain.
A CAFO volunteer went to scan him and rang us to see if we could help with him.
Eden vets took him and his hip had popped out he had a tyre mark on his stomach.
He was given strong pain relief and his hips been put back into place neutered, chipped, wormed and treated for fleas.
Cat Cat is having cage rest now for a few weeks so the hip doesn't pop back out.
Hes a lovely boy and staying in foster with the lady that he visited.
We are struggling for fosters so really happy this lady can help, please get in touch if you would like to be registered as a Cat foster.
Cat Cat will be marked as ready for adoption when he has completed his course of treatment.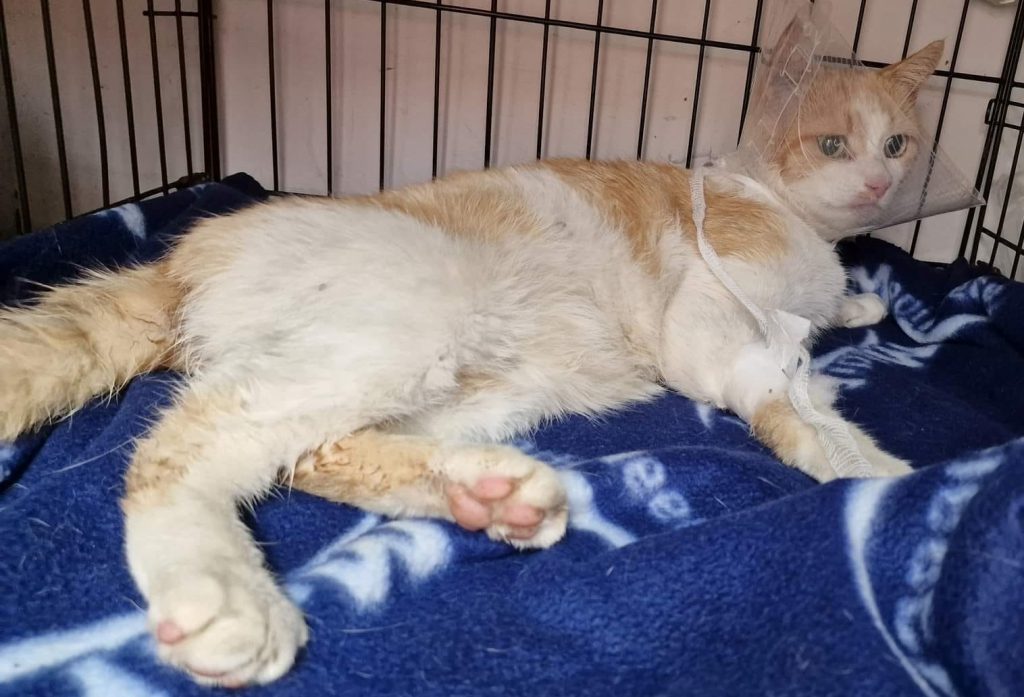 ---
Liquorice, Panther & Sox
Introducing a gorgeous trio of boys, please welcome Liquorice, Sox and panther.
They are around 12 weeks old, if you are interested in adopting one of these beautiful boys please contact us using the button at the bottom of this page.
They will be chipped and neutered by us when they are old enough, they will be treated for fleas and worms before they leave our care.
Adoption fees and a home check will apply.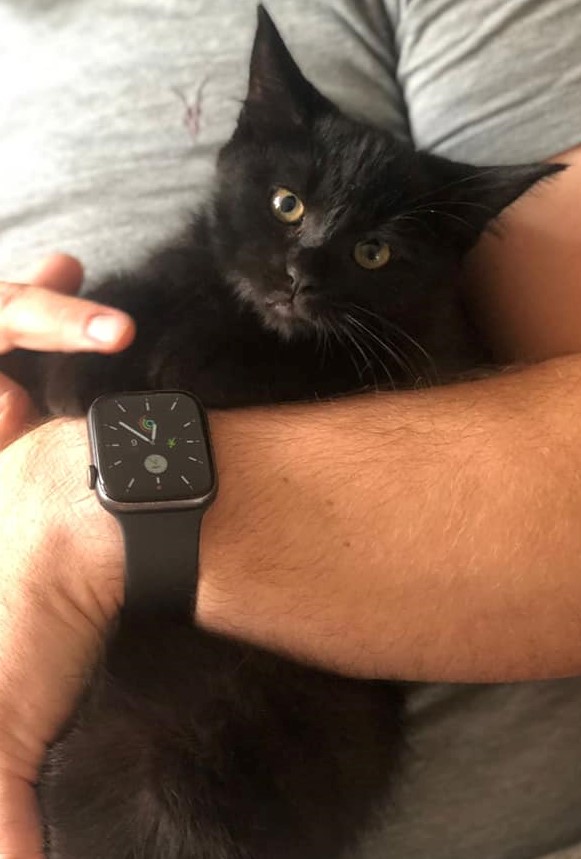 ---